Banerapport 16 mai
Av: Elin Ingvaldsen | Publisert: 16. mai 2021 | Siste nyheter | Arkiv
Tøffe dager for banen og banemannskapet, her forklarer Eoin situasjonen og utfordringene de møter med dagens vær.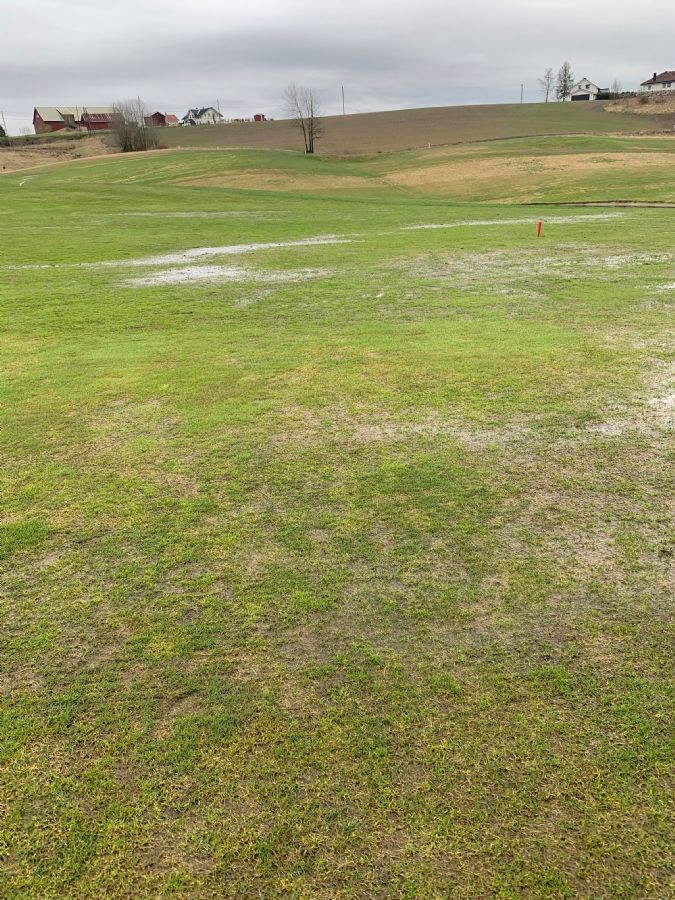 The last 5 days have been quite challenging for everyone due to the weather we have been experiencing.
This unexpectedly very wet period directly after a very dry 3 weeks has meant that the infiltration rate in the ground is unable to cope with the 70 mm of rainfall that we have received. The ground is very hard and most of the rainfall is sitting directly on the top of the surface unable to penetrate through as it normally would. This is especially evident on most of the fairways. This in combination with already slow growth has meant the course is struggling to withstand the pressure of a huge amount of traffic over the long weekend. Our main focus at all times is to provide the best possible course without having to make sacrifices over general quality. With a long season ahead we have made the decision to keep the course closed until we see that quality wont be put at risk. At this early stage of the season it is vital that we nurture the grass as much as possible so we can have a strong robust course for the rest of the season. It is a short term pain for long term gain. We will continue to assess the course twice daily and make wise decisions for all our members to gain from.
From a greenkeeping point of view there are many positives. We are managing to hand-mow all greens and tees daily. Here we see a massive improvement from the rest the course is getting but also from the recent fertilising and seeding that we have been doing. It has been almost a week since we last got to mow the fairways and our real challenge now is getting to mow these areas. This afternoon we will attempt to mow some areas of fairways and roughs in advance of more rainfall tomorrow.
When we do open again, we will probably have a little slower greens as we are unable to carry out extra work on them which we would normally do. We ask everyone to continue to focus on divots and pitch marks to enable us to raise the standard for everyone. Our earliest date we see for re-opening is Tuesday May 18
th
but
this will not be decided upon until after a course inspection tomorrow (May 17th) evening at 18:00.
Info will be as usual found on both our homepage & Facebook page regarding this.
Meanwhile we have managed to keep our driving range and short course open for everyone.
I guarantee we are doing our upmost to make sure we come back in a strong healthy position in a few days again. Thanks for your patience.
Eoin & team.